Everyone's proposal is unique and deeply personal. Whether it is as simple as hiding a ring in a glass of champagne, using your pet to something more elaborate such as proposing in a hot air balloon. There have been some really amazing proposal that have become famous. The only people is should matter to are the 2 people involved. Sometimes you have an idea for your perfect proposal but you need a little help to execute it. This is where proposal planning can help you make your vision a reality.
What Is Proposal Planning?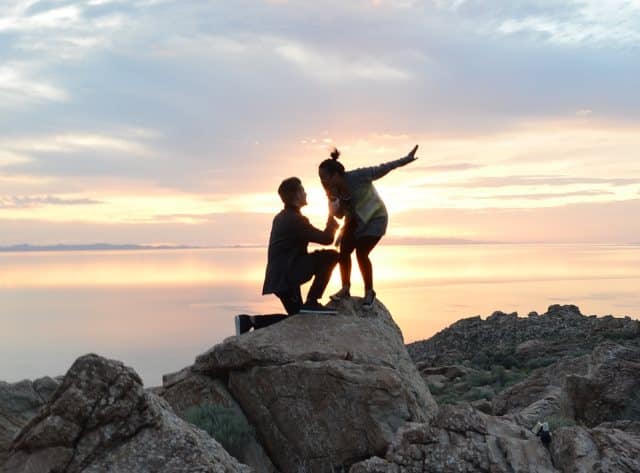 You have an idea for your proposal and you know exactly how you would like it done. You also know you you need a helping hand or a team of people to pull it off. This is for people who want to make their proposal extra special and more meaningful than an ordinary proposal.
We have had people contact us and pitch these amazing ideas, some are highly elaborate and some are simple but they are all special. A short time ago a man called us up and had an idea to take his future fiance out for a full day of activities. He wanted us to setup, decorate, reserve an area in a park to make sure no one got it. While this sounds simple enough, the execution to make sure that everything ran smooth throughout the day without her knowing was part of the fun.
How We Help With Proposal Planning
Other ideas are setting up and coordinating a whole series of events that run so smooth it all seems magical. Everything is arranged where the dinner is pre-planned and that perfect table is booked, you arrive just at the right moment as the sun is starting to set.
At Pink Caviar Events we get phone calls from people asking us if we can help with their proposal. The simple answer is YES of course, we love weddings and proposals. We can help with every aspect of the proposal planning service. It is not just a matter making sure everything runs smooth but also making sure everything will go perfect.

To get a deep understanding of the couples we ask many questions such as likes, dislikes, hobbies, interests, dietary requirements, beliefs and more. We combine this with our years of planning to execute it to perfection. This way any issues are avoided and the experience is made even more personal and stress free.
One great thing about this service is that it is all inclusive. What this means is that we take care of everything and all you have to do is show up. We do all the setup, coordinating, planning all while checking in before to make sure it exceeds your vision. We can even discreetly keep in contact (if required) during your date to have everything executed at the perfect moment. Lastly we take care of any packing up so you can enjoy your moment without the fuss.
Contact Pink Caviar Events today to see how we can turn your perfect proposal idea into reality with our proposal planning service. Also one you have popped the question you may also be interested in our wedding planner services.
Are you planning a proposal? Are you going it alone or asking a proposal planner? Join the discussion down below 🙂