Renewing wedding vows has become increasingly popular in the past few years. As a result the question of 'when' a couple can / should a couple renew their vows has come into question. Today we look at when couples renew their vows, what and how to do it and the costs involved.
Renewing Wedding Vows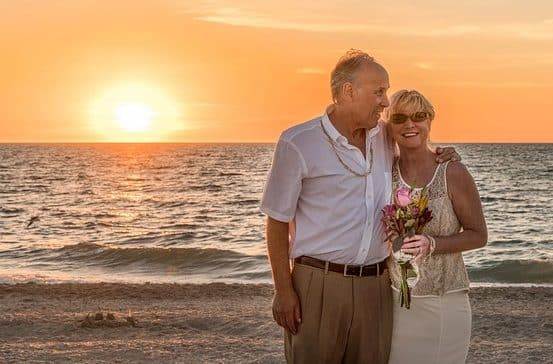 The short answer is you never have to. Marriage is a lifelong commitment and  does not need to be done again with the same person (technically speaking). While there is debate of when the right time, it personally comes down the the couple.
Debate of this topic between the team in this office ranges from from 10 – 30 years. I will quote one of our consultants Dimitri who said "20 years is the time to renew wedding vows".
At that stage in a relationship they have gone through many of life's ups and downs and still together". Whatever the reason you may wish to remarry the majority can be broken down into the following reasons:
Have extra cash and want to have the wedding they never could:
Imagine 20 – 30 years ago a young couple in love wanting to get married. However as they were starting out they did not have a lot of funds. Fast forward many years later they were happy with their wedding. But some couples wish they could have done things with a bigger budget. Another reason is that with going to so many weddings through their lives, they wish they had done it differently. With more experience and funds they now can.
After X Amount of years they would like to reaffirm their vows:
Life throws its ups and down to any married couple. After some of time a couple may feel it's the right time to renew their vows (or add new ones).
Life Changing Event:
Sometimes in life 'stuff' just happens and for better or worse it alters our path. A couple may go through a stressful time (for whatever reason) or something incredible happened that brought them closer together. They therefore would like to renew their wedding vows for the next chapter in their life.
While these are not the only reasons, they have been proven to be the main reasons a couple renew their wedding vowels.
Ideas For Renewing Wedding Vows
There are many ways to go about this. Depending on your personal beliefs, personal choice and so on it will determine how things play out. The one advantage is that since you are already legally married you do not have to register this with the department of Births, Deaths & Marriages again. It is because you have already been married and this is more of an emotional re-commitment of reaffirmation.
You can either go back to your local church, mosque, temple and so on to reaffirm with your faith. Many couples will choose to have a different wedding the second time (even if they are religious) such as a destination wedding and second honeymoon. Popular places such as the Hunter Valley, New Zealand and Fiji are popular locations for many Australian's.
While not destination wedding specific, many of these ceremonies the second time around can be more intimate. By this stage in your life you know more than ever who are your true friends and family. These are the people who will stick by you through thick and thin. Therefore some opt to have a smaller size wedding of 20-40 inviting only the most important in their lives.
The Cost Of Renewing Your Wedding Vows
It will seem obvious but if you were married 20 – 30 years ago the price of the average weddings have gone up. Check this out from the ASIC Smart Money Guide to see an average cost these days. These days a full blown wedding according to the Easy Weddings 2016 Survey is around $30,900. This is why renewing wedding vows tends to be smaller compared to a first time wedding. They are more meaningful celebration whether they be local or a destination wedding.
Whatever the reason you are renewing wedding vows I am sure it will be great. If you need a little help getting everything then come on down and speak to one of our wedding event planners to get the ball rolling.
Do you have a question for Ask Emilie then email her here? Alternatively, fill out the form below and have your question answered in our wedding blog. Also, check out the other Ask Emilie Blogs here, they may also contain what you are looking for or give you ideas and inspirations for other wedding related questions.
Are you considering renewing your wedding vows? Have you been to a renewal of vows ceremony? Join the discussion and comment down below 🙂