Small intimate weddings (according to  Pink Caviars definition) is a smaller gathering, no larger than 20 people. Generally speaking only close family and friends are invited. This creates a more personal experience, not just for yourself but also your guests.
Small Intimate Weddings
There are many reasons why some couples choose to have a smaller wedding. Some reasons are that they wish only to be surrounded by their nearest and dearest. My mother once said the last thing you want is to look back at your wedding photos 20 years from now and think 'Wow I have not seen that person in years, what a mistake inviting them was'. Another good reason is from a client early last year where they were born overseas. The majority of their family and friends were not in Australia and has not seen them since he got married. Lastly, people believe that they can have an amazing wedding with all the trimmings, splurge on their guests with better food and inclusions.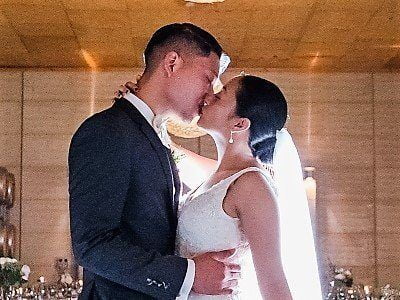 Issues With Small Intimate Weddings
There are, two main issues when planning small intimate weddings. Firstly it is not that easy to find a location or supplier that cater for weddings under 50 people. For example, many venues will typically have a minimum of 50 to 100 guests and are limited by physical space. While they are literally able to cater for smaller functions, venues are typically booked out up to a year in advance. As a business, they would rather hire their space out to a larger crowd. Therefore you need to be able to choose a location that suits not only your tastes but also an appropriate private dining room.
Some couples are then tempted to have it at a restaurant as they will happily take smaller groups. Depending on the restaurant you may be dining with the general public because not all restaurants have private dining rooms.
The second issue is the misconception of the budget for small intimate weddings. While logically speaking if you have fewer guests, then the cost should be less. While this is true and you will be spending less, you may not be saving as much as you hoped. Just like the minimum on venues, there are some services such as a stylist, florist and so on that will have a minimum standard to go by. For example, a function space/room may have a smaller headcount of 12, but your total is 10. Depending on the venue space, they may charge for the additional headcount. Keep in mind that the cost per head will be higher on a smaller affair.
Pink Caviar Events Are Experts At Small Intimate Weddings
Pink Caviar Events are experts with smaller intimate weddings and have been putting them together for the past few years. If you are planning a small intimate wedding (whether it's your first, second or last wedding) feel free to contact us as we would be able to help not only plan your wedding in an intimate and private setting but also help you keep the costs down.
We have connections with suppliers who specifically cater for intimate weddings and know venues with smaller function spaces with the feel you are looking for. We also have a team of stylists in-house to decorate to your heart's content. With our years of experience, rest assured that we know how to make it all go off without a hitch.
Contact us today to see how we can turn your intimate wedding into one that you will cherish for a lifetime.
Are you planning a small intimate wedding? Join the discussion below and let us know in the comments section 🙂
Do you have a question for Ask Emilie then email her here? Alternatively, fill out the form below and have your question answered in our wedding blog. Check out the other Ask Emilie Blogs here; they may also contain what you are looking for or give you ideas an inspirations for other wedding-related questions.