What is the etiquette of smartphones and social media at a wedding? This topic has been covered numerous times by others, but I wanted to go a little deeper. I want to break this down into groups of the dos and don'ts (when to do and not do things). Let me just say that there is no right or wrong. At the end of it all, it's YOUR wedding day. As a couple, you decide what is best for both of you. You need to know how to manage smart phones & social media on your wedding day
I think it is great that we live in an age where you can take a photo or video and share that with everyone. The bride and groom love it, the guests love it, in fact, almost everyone loves it… except for the photographer (I will get to that part later).
Smartphones & Social Media on your Wedding Day
Ceremony
The general rule of thumb is that it is fine to take as many photo's and videos as you possibly can without disrupting any of the festivities. The good thing is that these days the priest/celebrant will generally advise you to switch off your phone or at least put it on silent. As we know, there will always be one person who leaves it on, and it rings during the service.
We advise couples to make a sign and put it on a stand which reminds guests to turn off their phones. Alternatively, provide a basket where guests can leave their phones/devices to not disturb the ceremony. Advise your guests to put their devices on silent so they do not make noises or vibration noises during the service.
One thing I can not stress enough is to please, please, please do not use an iPad/ tablet to take photos! Not only do you block those behind you but it does not look very nice. Whether it is a tablet or smartphone, social media on your wedding day needs to be managed.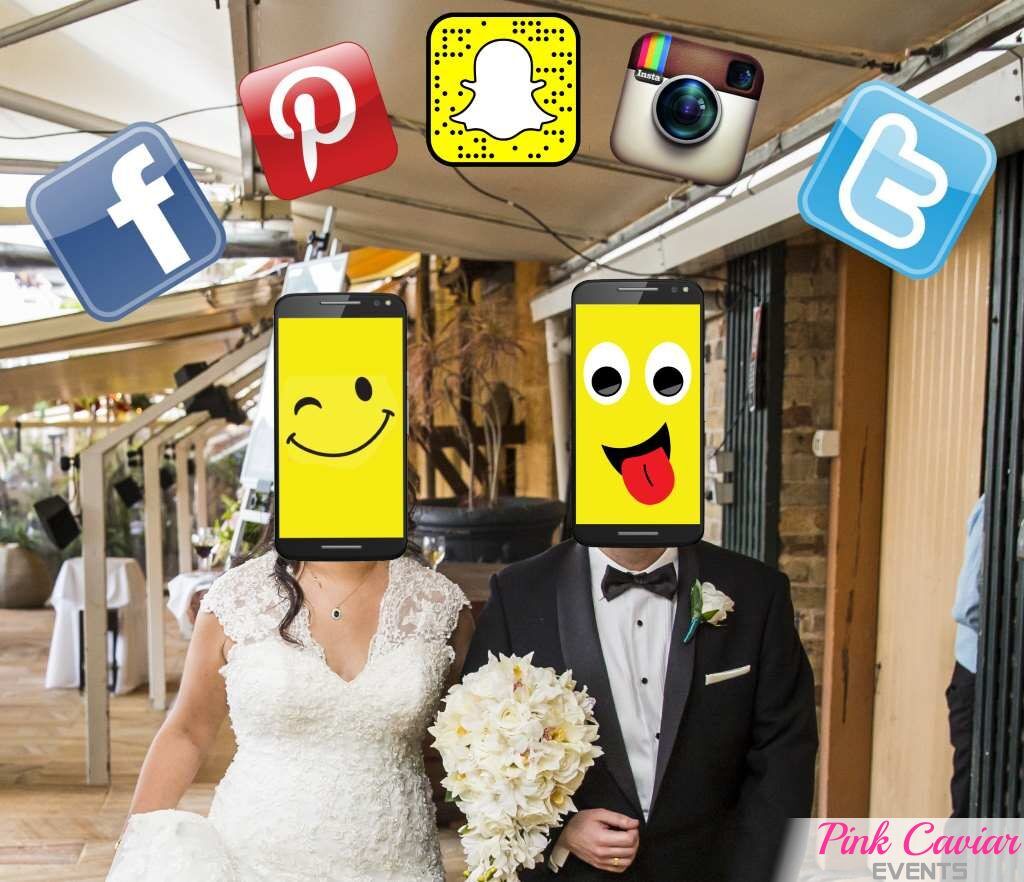 Selfies
I had to mention this as I have seen it before and it didn't end well. If you are going to take a selfie, DO NOT STEP OUT ON THE AISLE WHEN THE BRIDE IS WALKING DOWN IT or worse (unless you really know the person)… step onto the aisle and try to snuggle up to the bride while she is being walked down the aisle for a bit of Instagram action. A bride on her wedding day can be rather unpredictable. Many things are going on including stress and not eaten all morning. She can take it the wrong way, or worse you could trip her over.
Communicate With Your Wedding Guests
Remember to communicate with your guests before your wedding day about your feelings regarding social media on your wedding. It's easier to let your guests know via email or Facebook and then have a gentle reminder on the day. These days, it's soo easy to share anything on social media but remember to communicate with your guests if you do not want anything uploaded. While most of the time it is fine, there may be instances that the couple does not want anything uploaded.
A good example is when certain family members have a falling out and you do not wish for them to know yet. Another reason is that the couple wants the day to be about them. They just want to share it with their family/friends on the day… the world can know tomorrow.
Be Mindful Of The Photographer
The photographer is paid to be there and it is in their best interest to take the best shots. You can normally identify them by the freakishly large camera and lens they are walking around with. While it's great to take photos alongside them to compliment the different views on the wedding day, please do not get in their way.
I have attached an example from my own wedding below. During the cake cutting a guest got right in the middle of everyone including our photographer. This caused him to run to the side to get any decent shots. While we were not upset with her, we have no direct, clear shots of the cake cutting.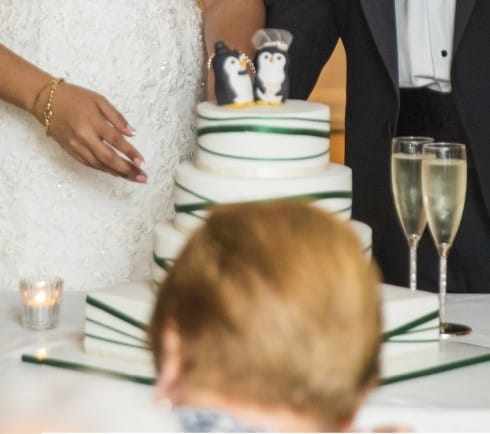 That's about it, the general rule of thumb is that if it's your wedding day you can do whatever you like. Be sure to communicate what you want on your wedding day to your guests. If you are a guest just be mindful of the bride and grooms wishes. Lastly, stay out of the photographer's way!
I have also written a follow-up article called Photos Everywhere – How To collect And Share Wedding Photos. It is about the best ways to get photos from your guests, interesting sharing idea ideas, apps and much more. Talk with one of our team today on how we help manage smartphones & social media on your wedding day. The best advice will come from one of our wedding planners who have years of dealing with technology and the best way to utilise them at weddings. Check out our Facebook page for more ideas.
For your wedding/event, how have you decided to manage smartphones & social media on your wedding day? What have you seen others do? Join the discussion and let us know in the comments below 🙂