One of the significant highlights of having a child is watching them being baptised or christened. This is an auspicious occasion for both the child and their parents. This is often something that they want to share with their close family and friends. After the religious ceremony takes place, they want to share and celebrate this moment with those they love, and often they decide to throw a party. If you are one of these families, you may be looking for great styling tips to throw the perfect party for your little one's big day. Here are our ten tips on styling Ideas for Baptisms and Christenings.
10 Styling Ideas for Baptisms And Christenings
1. Simplicity is Key
If you are a person that prefers the "less is more approach", this approach is for you. Stick with simple pastels and soft colours. These always pair well with white accents, or you could even throw in a hint of gold or silver for a little bit of shine. The big thing is to give hints of a theme without going overboard. You want your little one to be the centre of the event, not the decorations.
2. Photo Walls
Choose some of your favourite pictures of your little one and have them decorating a single wall or space of prominence where you will be holding their party. This is such a significant moment in their lives, and you want to show them off from all of their best angles. Plus it will give relatives something to ooo and ahh over as they mingle. You could even hand the photos in the shape of the cross for an added amount of significance. These go great with our photo booth.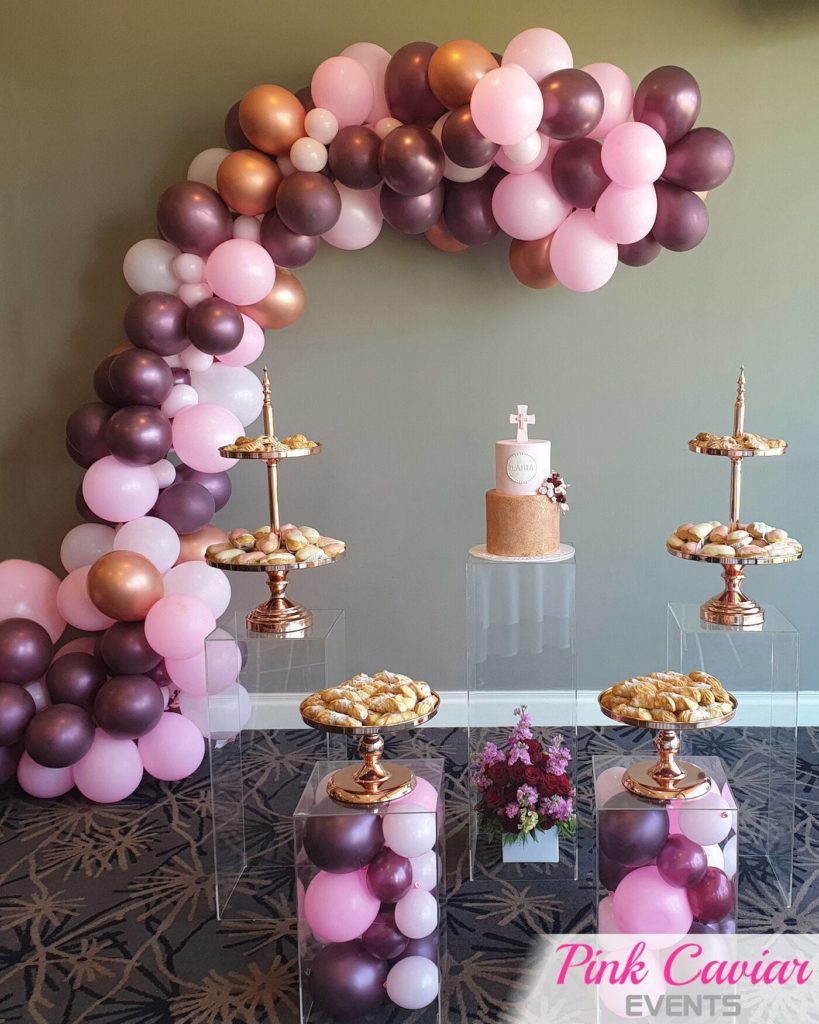 3. A Cute "Blessed" Banner
If you're looking to add more wall decorations that can later be used elsewhere, order a custom "Blessed" banner that matches with your decor. This can then be added to your child's room as a great little reminder of their day.
4. A Customized Gift Table
Everyone will want to bring your little one a special token on their big day, and this is an excellent opportunity to display them at the party. It may even be a great idea to get a customised graphic on the table. Items such as a bible verse about the promise of the future for your child. Surround it with family photos of other christenings to draw a connection between this special day and the special day for other figures in the child's life. Everyone can peruse the pictures while leaving their own gift.
5. A Custom Cake Topper
Etsy is a great place to find custom products like custom cake toppers for when it comes to styling ideas for Baptisms. Getting a custom cake topper with your child's name. Add a few flowers to surround the piece on the cake to tie everything together. This will also make a great keepsake for later.
6. Religious Accents on Your Food Displays
You could consider a fruit tray where everything is arranged in the shape of the cross, or even have a cupcake display in a similar manner. This way, you are continuing to tie the spiritual significance of this occasion into every aspect of this day for your little one.
7. Angel Accents
We all want to think of our children as our little angels, and this is a perfect place to add that touch in. Think of getting miniature angel statues or accents to add throughout your decoration.
8. Baptism Themed Cookies
When it comes to styling ideas for baptisms and christenings, cookies are a great idea. The cookies can be customised to match the colour scheme you've picked for the party. You can have them include messages about your little child on them. These come in a variety of shapes that fit with the occasion.
9. Prayers for Baby Cards
This is a great way to get your guests involved in celebrating this special occasion for your little one. Have custom cards made out that have sentence starters and have your guests fill them out with what they pray for your child as they continue on the religious journey.
10. Signed Frame for Christening Portrait
This is a great and inexpensive idea for remembering all of the aspects of your child's christening. Leave out a frame to be signed by everyone that attended the christening that you can later place your child's christening portrait in. Years to come, this will be a great reminder of everyone who is present for your child special day in which to love and support on their journey.
If you are looking to host a baptism or christening, then feel free to check out what we offer. We have a wide array of styling ideas for baptisms and christenings plus a host of additional fun options such as photo booths, candy buffets and more.
Are you looking for styling ideas for a baptism or Christening? Do you like any ideas from our top ten list? Join the discussion down below in the comments section and let us know 🙂