UPDATE: As of 07/12/2017 the Australian Government has legalised Same Sex Marriage. As we said almost 2 years ago that it was not a matter of if but WHEN. Well WHEN is NOW as Marriage Equality is now here! Looking forward to working with and seeing all the newlyweds off all genders and preference in 2018!
While the movie is a comedy and picks at some of the more humorous parts of Greek culture much of it its true. While exaggerated in some parts, it is interestingly enough spot on. It explored what it is like living in a Greek family, the culture and growing up in the USA. This amongst holding onto their heritage. It mainly focuses on a woman who just hit 30 and wanting to find love while dealing with the impact and expectations of her over-the-top Greek family while. While not focusing on marriage equality , a story thread focused on same sex relationships.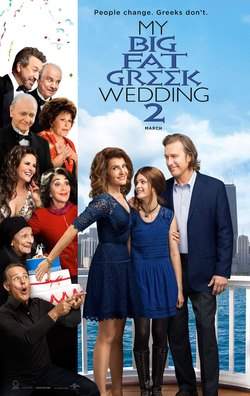 Before we begin I would like you to know that I have a Greek background. In fact with a name like Cassimatis it is undeniably Greek. I worked at the cinema where My Big Fat Greek Wedding premiered in Australia. I got to see Nia Vardalos in person walking down the red carpet.
The sequel focused on Nia's character now with a teenage daughter and her parents re-marrying. There was another story line about Angelo who is Nia's cousin came out as gay.
When I saw the movie and thought about this story line I immediately thought 2 things. Firstly that they should have explored this line a little more. It felt like it could have added more to the overall story. Coming out can be rather scary for some people. Having lived on Oxford St for many years I knew people who were gay but had not come out to their family yet due to fear.
The one thing that seemed to happen in most cases is that in the vast majority of cases (from my experience) is that most people just wanted their children to be happy and healthy. In some cases they were not soo happy about it. They did say it would take time to get used to the idea.
What My Big Fat Greek Wedding 2 did was reinforce that in 2016, its not a big deal. In fact while fact checking and doing my research for this blog I stumbled across this article here. She went on to say:
When my cousins came out, the love that came at them was so intense and unconditiona, that I thought, 'This is just my chance to put in a little message of acceptance.

What was interesting was that at the time of writing this article we had just exhibited at a wedding expo. As usual many excited brides and grooms (more-so the brides) attended. There was also an influx of same sex couples talking to us about their future wedding. Because of this an open talk about marriage equality occurred.
While the law in Australia has not legalised same sex marriage, many couples were getting ideas and starting to physically plan their big day. It's actually great to see and talk to same sex couples about their future wedding plans and marriage equality. As opposed to just a commitment ceremony which they thought was only attainable beforehand. It was also great to talk to them because the reason they came out to the expo. This is because they can feel that a change in the law for Marriage Equality is finally within reach.