Being a bride, you have the option to do a speech at your wedding also know as a bride speech. In the past few years, it is becoming more and more common for brides to speak at their wedding. Good on you because it's not compulsory and public speaking is one of the hardest things to do. While there is no set structure for a bride's speech, we have seen countless speeches through our year planning weddings. We have taken from the best and boiled it down so that is meaningful, impacting and relevant guide for the bride.
The Bride Speech Guide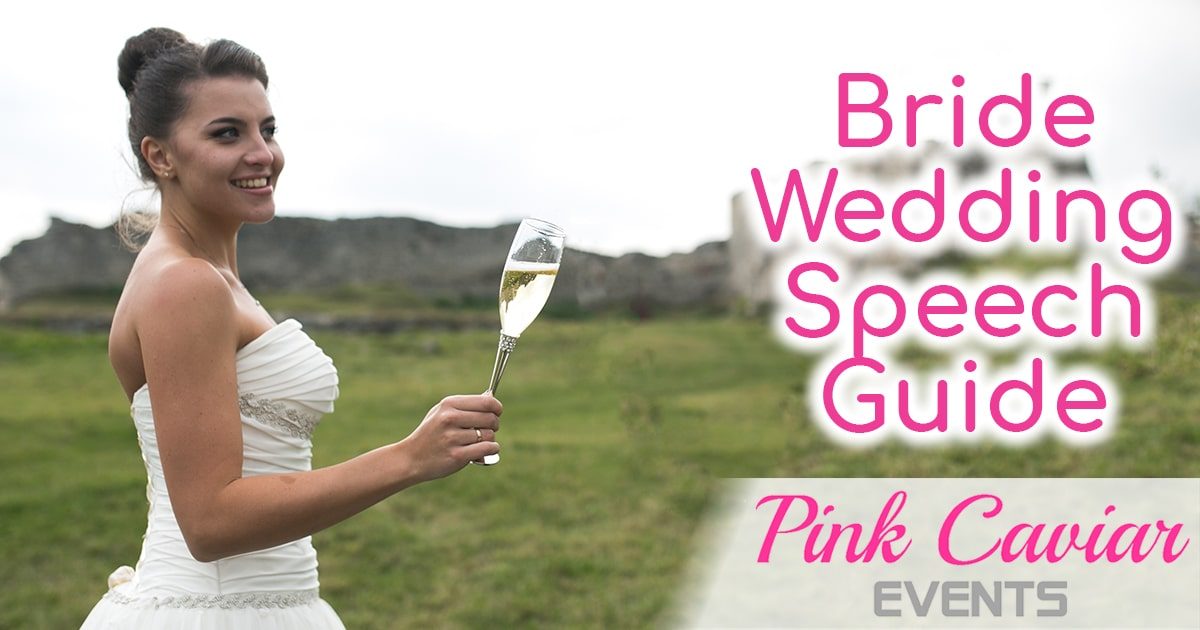 Wedding photo created by teksomolika – www.freepik.com
Unlike other speeches, there is nothing specific you need to cover as a bride does not traditionally speak. What this means is that it is a tradition for the best man to roast the groom, for the father of the bride to talk about his little girl and as such you are not bound to talk about anything specific. That being said feel free to coordinate with other people speaking to make sure you do not repeat what anyone else has said and for your speech to be meaningful and unique.
Before we begin just note that the bride's speech would technically be the last speech of the evening. Traditionally the groom is the last to speak and close out the night of speeches. If the bride decides to speak, then she has the honour of closing.
Another option that some couples do is speak together. If you and your husband do not like public speaking, then you can boost each other confidence and do the speech together. You would need to practice and work out together. As it is the two of you up there, then it can make it a lot easier 🙂
Introduction To A Bride Speech
Firstly introduce yourself, and yes we do know that if the audience does not know who you are, then they should not be there (that or had too much to drink) and celebrate on your big day already. I mean they were at your wedding hours ago and you were introduced at the reception entrance.
Acknowledgement of guests and loved ones
Thank everyone for attending and thank those that travelled far to be at your wedding (be it interstate or from overseas). Also to pay respects for people who had passed on and you would have given anything for them to be there. It can be anyone from a parent, friend or loved one who could not be there as they have passed on.
How You Met Him
This is where you can have a little fun and give your thoughts of when you first met him. Talk about your first date and any funny things that happened. However, unlike the grooms speech, feel free to talk about other guests (if relevant) that were involved in the blossoming of the relationship or introduction of your now husband.
Mum & Dad
Just like the groom thanking his parents during the speech, it's only right that you give thanks to your parents. Thank them for being there for you through the years and how they raised you and helped shape you into the person you are today. Also, don't forget your new in-laws, you should mention them and thank them for welcoming you into their family and that you will be there for their son in good and bad times.
Your New Husband
This is where you talk about your husband and how he makes you feel. Also, the story of why you fell in love with him always goes well. Mention how excited you are to start your new life with him.
Thank Everyone
Lastly, do not forget to thank the guests at your wedding who are there to spend this special day with you. Also, mention that you want to see them on the dance floor! Do not forget to finish off with a toast 🙂
Your Wedding – Your Speech – Your Way
While there is no traditional or formal structure, feel free to chop and change whatever you like. The above guide is to inspire you and give you a structure for ideas.
Check out Our Other Speech Examples
While we do not have a bride speech recorded, feel free to check out the other wedding speeches below or on our Pink Caviar YouTube Channel for other speeches to take inspiration from. Feel free to check them and take inspiration from them down below. See if you can use them in conjunction with the speech guide in creating an awesome groomsmen wedding speech/performance.

The Bride Speech In Conclusion
Lastly as stated in the beginning, you can choose if you wish to speak or not. It's your day and if you want to then do it and if not… well, you just don't have to. Also as it is optional and you decide at the last minute to have a speech then that's fine after all it is your wedding.
Feel free to check out our other wedding speech guides down below. Here we give you guides for the perfect speech on your wedding day (or anyone else speaking).
Let us know if this guide helps you with writing your speech. Have you been to a wedding and heard a great bride speech? Or did you hear one that could have been better? Let us know and join the discussion below 🙂