Congratulations you are the maid of honour (or matron of honour), and you have decided to give a speech. The Maid Of Honour Speech is entirely optional, and what makes it fun is that you do not have to do it alone. The Maid of Honour Speech is focused on the bride and from the perspective of being her friend. Below is a basic guide which will also include ideas and the option to include other bridesmaids. Do not forget to check out our wedding speech handy hints guide on wedding speech basics.
How To: Maid Of Honour Speech / Matron Of Honour Speech Guide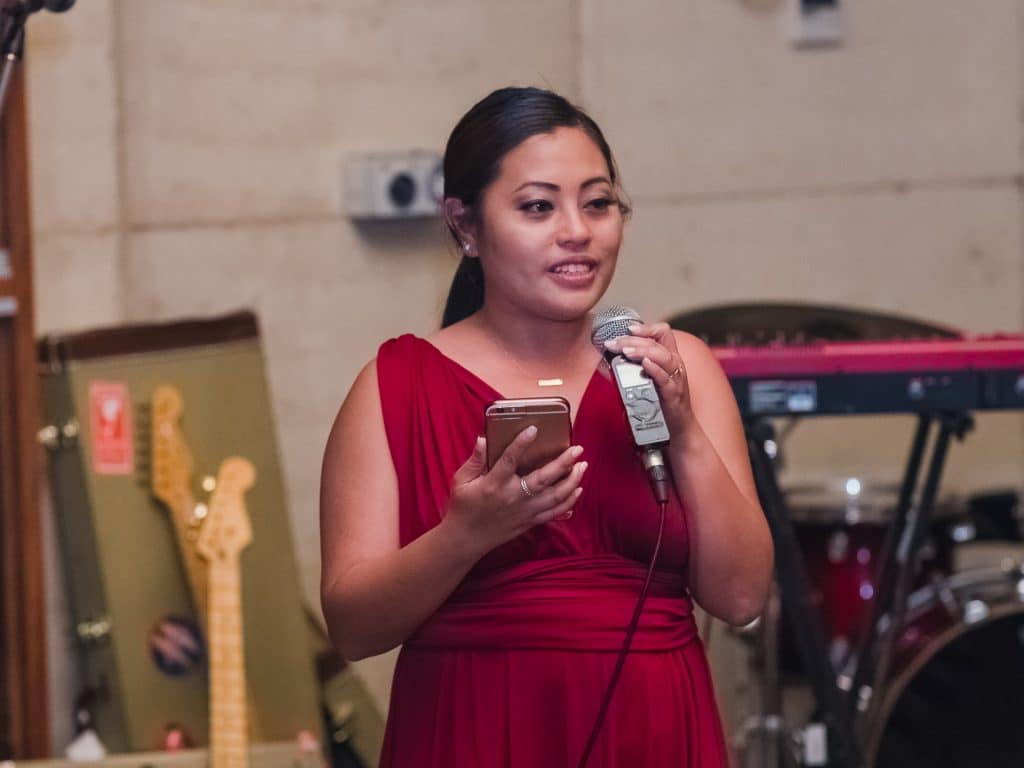 Introduction:
Just like the other speeches, the Maid Of Honour should always introduce themselves. While the majority of the wedding party will know you, there will be some that do not. This also includes the bridesmaids if they are speaking as well.
Thank Everyone For Attending:
The Maid Of Honour should give thanks to the people who attended. You only have to touch on it briefly as other speakers would have already touched on it beforehand.
How Do You Know The Bride:
Give a little story of how you know the bride (be it through school, relative and so on). Feel free to talk about what she was like when you first met her and if there was a funny or interesting way you both had met. A great example in a maid of honour speech is a bride who mentioned how the 2 of them met because they didn't get the memo their uni class was cancelled. They were the only 2 in an auditorium of 500 sitting quietly for half enough before even questioning why they were the only 2.
A Couple Of Stories:
In this part of the speech, have a story or 2 about the bride that might be funny or just a great story to tell. Unlike the best man speech roasting the best man… your speech can be funny with a humorous poke at the bride but don't cross that line otherwise friendships can be in trouble. It can be stories of you both grew up together, an unusual yet funny story you both or just the bride experienced and so on.
How You Met The Groom:
Now it is on to how you met the groom and your initial thoughts of him. Then you can go on to how the groom brings the best out of the bride and how they compliment each other. Feel free to mention any stories of the couple that you feel represent/defines them (could be a funny or endearing story).
In Closing:
In closing, feel free to read a quote, poem or even a little story that ends the speech of nicely about the couple. As always have everyone raise their glasses in honour of the bride and groom. That's it, and after all that, you should have just delivered an inspiring/impressive speech.
Other Options:
The above speech structure is only relevant if the maid of honour speech is solo and not including the other bridesmaids. However, this speech has the option to be more inclusive than the others and include them. There are a few ways that this can go about wither either the entire bridesmaids taking turns reading different sections of the speech.
Each bridesmaid can tell their own story of how they met the bride and a fun story about her. Another option is to perform a song, poem or group entertainment of some kind. The speech/performance can be performed solo, in the group or even have the crowd involved.
One group bridesmaid speech, for example, was one that had a quiz and engaged the entire audience. Everyone logged onto a specific website to answer multiple choice questions in real time about the bride and groom. This went on for a good 15 minutes, and the entire audience was completely engaged. All the points tallied in real time on a projected screen. The person with the fastest/most correct answers wins a prize. It was very enjoyable to watch and took the pressure off the speakers. This is something that is uniquely tailored for the bride and groom and got the entire audience involved.
Check out the maid of honour speech below as inspiration for your wedding speech along with this guide or check out the YouTube link for this speech.
Maid Of Honour Speech: In Closing
I normally advise the speech to only go for roughly 4-6 minutes. As this speech is unique as it can involve multiple people, it can go on for quite a bit longer. More so if it a group activity engaging the entire audience. In other words, the more people involved, the longer in leeway, you have time wise. Feel free to check out our wedding planning YouTube Channel for inspiration from other speeches we have on there.
Other Wedding Speech Guides
Feel free to check out our other wedding speech guides down below. Here we give you guides for the perfect speech on your wedding day (or anyone else speaking).
Let us know if this guide helps you with writing your speech. Have you been to a wedding and heard a great maid of honour speech/matron of honour speech guide? Or did you hear one that could have been better? When you did your maid of honour speech, was there anything you think we should add? Let us know and join the discussion below 🙂