Over several years here at Pink Caviar Events, we have seen it all when it comes to speeches, specifically wedding speeches. We have witnessed speeches where the groom literally said "wooo I'm Freaking Married, get your drink on… wooo wooo" and passed out on the floor. Then to the opposite end where the speech went for over an hour and people fell asleep. We have seen a lot of wedding speech guides talk about WHAT to say but not HOW to say it. Presentation, practice and writing from the heart are what will turn your speech from 'bored' to BOOM!! RIGHT ON THE MARK. We are calling this blog 'Wedding Speech Handy Hints' because it is just that. A blog dedicated to how to create the best wedding speech possible no matter if you are the groom, best man maid of honour or even a guest.
Wedding Speech Handy Hints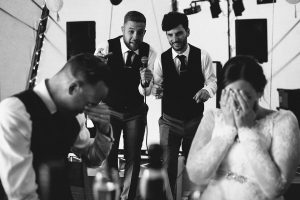 The Groomsmen – bad joke or cringy toast – you decide!?!?!
Please note that this guide is based on Australian weddings. Many of our clients often search for wedding speeches and (without realising) go to UK & US sites. While a great starting point, this often leads to misinformation. For example, many US-based sites state that the best man speaks last, but in Australia the Groom does. This had one groom rewriting his speech at the last moment because his punchlines were on the assumption the best man spoke after him).
Also depending on where you are in the world, there are different cultural attitudes towards different things. While the best man can give a speech and give a grilling to the best man in other countries, it can be a literal grilling. You want to not just have the right content but also the right level of emotion, comedy and so on.
Let's begin…
Order Of Wedding Speeches
Knowing when you are going to speak at a wedding is important. We have seen people miss their cue to speak, prepare punchlines out of context and other people not even realise that they had to speak. It is a good idea to know WHEN you are speaking, so everything runs smoothly and collaboration between speakers is important. The guide below for order of speeches is broken up into what is considered 'Traditional' (expected for that person to speak) and 'Optional' (not compulsory).
Father Of The Bride: Traditional
Father Of The Groom: Traditional
Maid Of Honour: Optional (Can be performed solo or with other bridesmaids)
Groomsmen / Bridesmaid (either together or separate)
Best Man: Traditional
Groom: Traditional
Bride: Optional (Can be performed solo or with the Groom)
Speech Length and Timing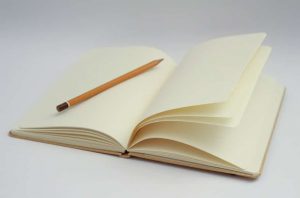 The speech should only be around 4-6 minutes maximum depending on time and everyone speaks at different rates (100-160 words per minute). With this in mind, write out the first draft then time how long it takes you to speak it. Once done you now have your benchmark for timing. We have noticed over the years that even with practice, people tend to speak faster when it's time to do their speech.
Feel free to add an additional 30 seconds to your talk (of course keep it relevant) but this way your speech will not end too quickly. Remember that going over 30 seconds is fine and it is ok to have a little bit more than a little less. The time limit is a guide and not a hardline rule.
A helpful tool we give to our clients is http://www.speechinminutes.com/. If you know how fast you speak (roughly), instead of multiple times timing yourself just put in the word total to know if you need to add or take out something.
Do not be afraid to cut out some of your speech if it's too waffly or irrelevant. Remember that you want to make your speech memorable with some mild humour, honouring the couple. Trim the fat of your speech, for example in my own wedding speech; I cut an entire paragraph down into one sentence. It allowed me to get the same impact but with more concise wording.
Practice
THE MOST IMPORTANT RULE: Remember to practice your speech. If you don't practice, you will end up stumbling and stuttering while staring at your piece of paper. This leads to not lifting your eyes to make eye contact with the guests. You should have your speech ready at least one week before the wedding. What I mean by this is to have the basic outline and then just practice on the lead up to the wedding. Practice in front of the mirror at least once a night till you get it down pat (Old school rules).
Have A Backup Copy On Hand
Another handy hint is to have two copies of your speech (physical and digital). Keep a printed hard copy of your speech because you never know when your phone will die. Keep it in your inside pocket and of course, have a copy on your phone, BUT you will be busy the whole day from the morning till evening you will be out of power.
You may not have proper access to a power outlet, on more than one occasion we have had brides/grooms asking us for a USB charger just before the reception. If this happens and your only copy is on the phone, you will try to 'wing it'. That or you scrambling to others to get an online copy you have in your DropBox or email to yourself. Then your speech will never be as good as your rehearsed version and kick yourself.
Another pro tip is to have the file on your phone but as an offline copy. In some instances reception at the venue can be horrible. We had a wedding one where it was in a remote area, and the only way to have any reception was a guest with a Telstra mobile, BUT we had to climb to the highest level to get a fraction of reception. No other network worked, and some venues are soo big that reception isn't ideal.
Alternate Text Colour For Easy Reading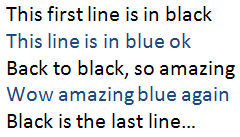 Soo easy to read 🙂 – alternating text
Unless you have memorised your speech off by heart, chances are you will read your speech. A piece of advice I was once given is to alternate the colour of your paragraphs or sentences with black and blue. This helps the eye distinguish between sections and help you get back on track if you have had a few to drink. Take a look at the image on the right and see how each line alternates in colour. It's a simple optical trick but it helps to keep focused and on point when making a speech.
I Got This Speech Online Joke
One speaker during the night will say "I got this speech online" during their speech, just don't let it be you. Sure you have to refer somewhere (EG here… so awesome 😉 ) but there is no reason to let every know you had 'no idea'. If you have been to more than one wedding, you would have heard someone say this joke. This phrase is only said when people feel nervous and use the 'internet' as their reason to the crowd as to why it may not be a good speech. Just focus on practising and making the speech the best it can be, and you will be fine. As a friend of mine says "Stay Classy".
That's A Wrap – Wedding Speech Handy Hints
That's it, if done correctly then everything should go as smoothly as possible! Follow these wedding speeches handy hints can help anyone create a great wedding speech. As I have said above it's not about following this guide to the letter but using it as a template or guide. If you can only get enough material for 2 minutes, then that's fine but make it count! If you were to take away one thing from our wedding speech handy hints guide it's that!
Check out our playlist of various video wedding speech examples below or click here to see all our wedding speech list videos here.
]
Check Out Our Other Wedding Speech Guides
Feel free to check out our other wedding speech guides down below. Here we give you guides for the perfect speech on your wedding day (or anyone else speaking) no matter who is speaking we got you covered (or anyone you know might need a hand).
Do you think these wedding speech handy hints could be useful to you or someone you know? Do you have any other suggestions that could help someone with their wedding speech? Let us know and join the discussion below 🙂