21 Jul

Best Man Speech Guide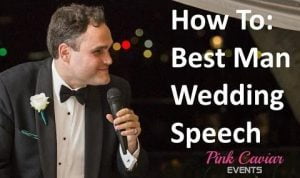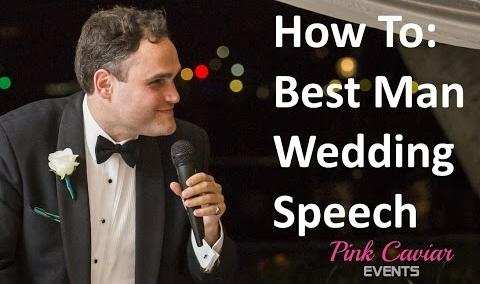 Ahh, the best man speech… the speech which is guaranteed to be the most fun of all the speeches and get a laugh. Out of all the speeches this one is the one people look forward to the most. Do not get me wrong as some of the others are generally more heartfelt and will bring a tear to the eye. However the best man speech is one that people enjoy the most due to its fun nature. If you are looking for a guide on how to write a best man speech then you have come to the right place! Follow this guide below and it will go off without a hitch:
Start Your Best Man Speech By Expressing Gratitude
Start off by giving thanks to the couple's parents by name and offer a toast if they put the wedding and for raising  2 amazing people.  Then thank all the people who helped make this day possible and then all the guests for coming.
Introduce Yourself
Being the best man, almost everyone would know who you are but introduce who you are and how you met the groom.
Funny story about the groom
This is the fun part where you tell one or two stories about the groom. Of course, everyone expects a roasting of the groom but do not go overboard (you still want to be friends with them after the wedding). Keep in mind that if the groom is to be the best man at your future wedding "paybacks a bitch" so keep that in mind. Also, do not choose stories which are just between the 2 of you. I have seen many speeches talking about in-house jokes that the guests are just not familiar with or were not explained properly.
The story of how the groom met the bride
This is your take on how the groom and his now bride met. As the best man, you have a unique insight as you see it from the perspective of your then single friend meeting the love of his life. A good example of when I was a best man at a wedding and I gave a story of how the groom met this girl and didn't think she was the one and that he "had enough of chicks"… 3 weeks later they were in a relationship.
Finish with a quote
To wrap off your now amazing speech…  end it with a quote. Try to make it specific to the couple and from the heart. It could also be a very tiny story, for example, my grandfather gave me some words of wisdom to which is told the (very short) backstory and the quote.
Toast to the bride and groom
This is the last part, all you have to do now is raise your glasses and toast to the bride and groom.
The Best Man Speech In Conclusion
That's it and if you followed everything you will have just delivered an amazing best man speech. That being said below is a list of DO NOT'S specific to the best man:
Do not get too drunk, sure have a drink as it's a wedding. The last thing you want to see is a video of yourself "off your chops" delivering a slurred speech.
The last thing you want is a bad speech at a wedding as I tell everyone to practice. For the best man it is most important as everyone expects a fun speech. Just remember that while the groom and the inner circle get your jokes not every one will. Write to to appeal to everyone or if not everyone at least the vast majority.
"Karma is a bitch" so as stated above… tell funny stories and everyone expects a roasting. However you can easily go overboard and easily break a friendship as I have seen.
Also below is an example of a wedding speech from one of our clients best man speeches. For other example feel free to check out the Pink Caviar YouTube Channel and use it as inspiration to help craft your own best man speech:
Feel free to check out our other wedding speech guides down below. Here we give you guides for the perfect speech on your wedding day (or anyone else speaking).
Let us know if this guide help you with writing you speech. Have you been to a wedding and heard a great best man speech? Or did you hear one that could have been better? Let us know and join the discussion below 🙂