Pink Caviar Events offers complete corporate event management services. From team building activities to end of year celebrations, registration desks to staff transportation we can do it all to reduce stress on your staff. Our team will work with you to design, plan and execute successful corporate events on your behalf. We can also provide additional staffing to assist with meet & greets, registration desks and giveaways. With excellent relationships with many of Australia's leading suppliers, we will provide you with the service that brings your concept to life and aims to exceeds your expectations.
We can help you with:
Award Nights (including plaques and certificates)
Conferences (including online registration, registration desks and assistance with giveaways)
Melbourne Cup (or other national events)
Christmas Parties (including theming and design)
End of Year Celebrations
Team Building Activities
Corporate Retreats (including transport for your staff)
We're Your Reliable Corporate Event Planner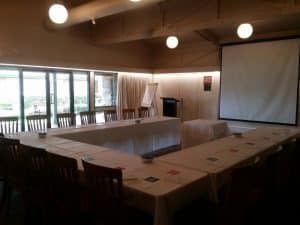 From the design and planning stages through to the execution and coordination of your corporate function, our team is committed to delivering high quality events for our corporate clients. From registration desks to conference set-ups, themed décor to gala / fundraising dinners we have you covered.
Let us organise your next office function and we will take the pressure off you and make the planning process nice and easy. We are just a phone call away and on the day, we will be present to operate behind the scenes for your peace-of-mind. We also have premium candy buffets to compliment your corporate event as well as provide a fun and interactive experience. Contact Us today to discuss how we can help you run your next corporate function.
Step 1: Organising and Planning

 Staging – design and decoration

 Power, audio-visual, lighting, video or PowerPoint presentation, speakers or entertainers needs.

 Marquees, tents or stalls, toilets, waste bins and water stations.

 Administration, information, lost children area, ambulance or first aid, security, crowd control (if required).

 Contingency plan for wet weather and crisis management plan.

 Creation of run sheets for all event personnel.

 Event toolkit – consider things like blue-tack for posters, blank name tags, first aid kit, torch and gaffa tape.
Step 2: Promotion and Communication

 Organise media releases, photographic images for press usage on television, the Internet and in print.

 Have a photographer and/or video producer at your event.

 Get letterhead and invitations printed, newsletters and emails issued or organise mailbox drops.

 Ensure flyers, posters and programmes include all relevant information as well as the correct telephone numbers and website addresses of our clients.

 Create an RSVP website and collate all responses

 Create an event run-sheet and reconfirm all supplier for your event to ensure deliveries and entertainers are on time and goodie bags are ready for your guests.

 Send letters to confirm details, set up a registration system for your event RSVP's and run the front desk at your event.
Step 3: Managing your Corporate Event

 Ensure all elements arrive at your event and be present during the "bump in" to coordinate your suppliers so you don't have to worry about your event coming together.

 Carry walkie-talkies and mobile phones for instant communication with our team.

 Have backup options for weather and/or access strategies in place (where applicable)

 We will have staff in the position to assist with on the day registrations, goodie bag giveaways and any movements of furniture and décor.
Step 4: Packing Up

 Our team will facilitate the packing up of equipment and organise the event "bump out".

 As part of our service, we will have a clean-up plan in place and arrange collection of equipment.

 We can also assist with the sending out of thank you notes and/or post-event surveys.
Corporate Retreats
With our reputable contacts with leading suppliers, we are able to assist you planning and running corporate retreats. From the Hunter Valley, Blue Mountains or even Fiji, we can work with you to plan, book and manage your next corporate retreat. Weather you are looking for some team building activities and time away for you team or simply a relaxing backdrop to your corporate intensives, we can help.
Contact Us today to discuss how we can help you run your next corporate retreat with a corporate event planner.