18 Aug

Father Of The Bride Speech Guide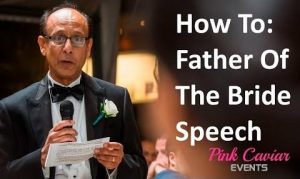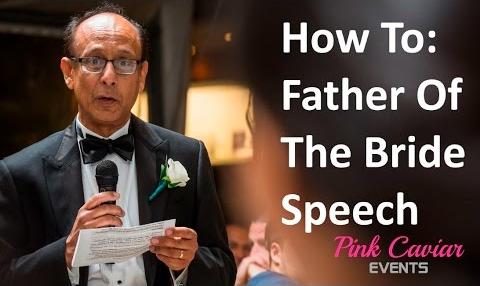 Congratulations your little girl is getting married and it's your time to speak on her special day. Below is how you can craft an amazing Father of the Bride Speech. Traditionally the father of the bride is the first one to kick off the speeches. This is then followed by the best man then groom. Being the first speech it sets the tone for the other speeches and unlike the groom or best man it is one of the more heartfelt speeches (as opposed to the best man speech which is more a grilling at the expense of the groom).
Just like all other speeches on the wedding day, if you have not spoken before or in a while it may be a good idea to brush up on our general wedding speech guide. It contains handy hints for anyone speaking on the day (Link below).
Father Of The Bride Speech
Below is a basic construct of what the speech should look like (please remember all speeches as a rule of thumb are between 4-6 minutes). Remember this is a general guide and if you need to say more then do so:
Introduction
Introduce yourself and say who you are. Of course the bride's side will obviously know who you are but maybe not all the groom's side. So say something short and sweet.
Welcome & Thank Everyone
Welcome and thank everyone for attending to celebrate the day of your daughter wedding. You should specifically mention and thank the mother of the bride and also the groom's parents.
Talk About Your Daughter
This is the part of the speech which is supposed to be touching, heart warming with a little laugh thrown in. Talk about your daughter and who she is as a person. You can talk about the kind of person she was growing up and her personality (in a positive way and maybe who she gets it from 😉 ). It is good to mention a story or 2 that give a rounding as to who she is and also a funny story for a bit of a laugh.
Your Future Son In Law
Welcome your new son-in-law into the family and to make him feel welcome. You can talk about how you first met him and / or first impressions. You can also talk about how he has grown on you and how you feel that he is a good fit for your daughter and that chose shoes well.
Words Of Advice
Here is an excellent part to bestow some worldly wisdom to the happy couple. This is to help the grow together and to have a long and happy life together. You are more than welcome to make this part light-hearted and tell some funny jokes about marriage, wives (be careful here… very careful) and general life.
Toasting The Happy Couple
The last thing to do is to toast to the bride and groom so tell people to raise their glasses and toast to the bride and groom. As a side note that while other people who speak on the night will ask to toast to the happy couple, but traditionally this is how the father of the bride is supposed to close off his speech as opposed to others.
One final note (this also applies to the father of the groom speech) that it is perfectly fine for the mother of the bride to step in should the father be unable to. For various reasons such as medical conditions, passed on and so on the mother can sub in and read the speech or even have their own speech should the situation arise.
Your Done… Sit Back and relax the rest of the night, hoping your little girl chose wisely and that you have done an excellent Father Of The Bride Speech 🙂
Below is an example of a Father Of The Bride Speech taken from one of our weddings. Please note that this is an example and feel free to take elements  of it for yourself.
Feel free to check out our other wedding speech guides down below. Here we give you guides for the perfect speech on your wedding day (or anyone else speaking).
Let us know if this guide help you with writing you speech. Have you been to a wedding and heard a great father of the bride speech? Or did you hear one that could have been better? Let us know and join the discussion below 🙂
Comments