Welcome to our Exclusive Sneak Peek series. An intimate look at events that we have put together for people and exploring the world of events. Today we are looking at a luxury surprise birthday dinner we created for a client at Oatland's House. If you like, scroll to the bottom of the page and experience this even in 360 virtual reality.
Surprise Birthday Dinner for 3.5 People
It is not every day you are asked to create an intimate event for a small party (3 adults and baby… hence the .5 🙂 ). It is also not very often you only have less than a week to arrange an entire event (big or small). The client wanted to celebrate his wife's birthday in style and elegance with something special he had in mind for over a year (more on that later).
Besides the short turn around time to put this event together the other challenge is that (as mentioned earlier) it was only for 3 adults and a baby. The function space is designed for 20 people and the colour scheme is rather neutral. The challenge was to create an environment that was warm and inviting and also feels vibrant in a large space for a smaller group of people. Working with the head chef, a custom menu was created.
The Cake
Normally I would not talk about the cake in so much detail but in this case, it was one of the key features of this event. The client had come to us a year earlier for an event but last time had only given us 24 hours to get everything ready. This time he gave us just under a week as last time we could not bring the cake to life. He wanted an exact replica of a Chanel handbag which his wife likes.
The client not only want it to look like a handbag BUT also look at realistic as possible. Last year there was not enough time to prepare this properly… but this year there was:).
The conversation with the baker went a little something like this:
Stephanie: Did you get the brief about the cake and did it make sense.
Baker: Yes a Chanel Handbag cake, it's easy and we do it all the time.
Stephanie: I need you to understand its not just a Chanel handbag cake, it has to look real. If I was to walk down the street with this on my shoulder it should look like an actual handbag just like the photos provided. But it has to be 60 cm wide.
Baker: Oh it has to literally be a replica of the handbag… now I get it!
The end result was a white chocolate and raspberry 60cm Chanel handbag cake. Even up close you can not tell it was a cake as this is the kind of cake you would find on the TV show Cake Boss (if not better).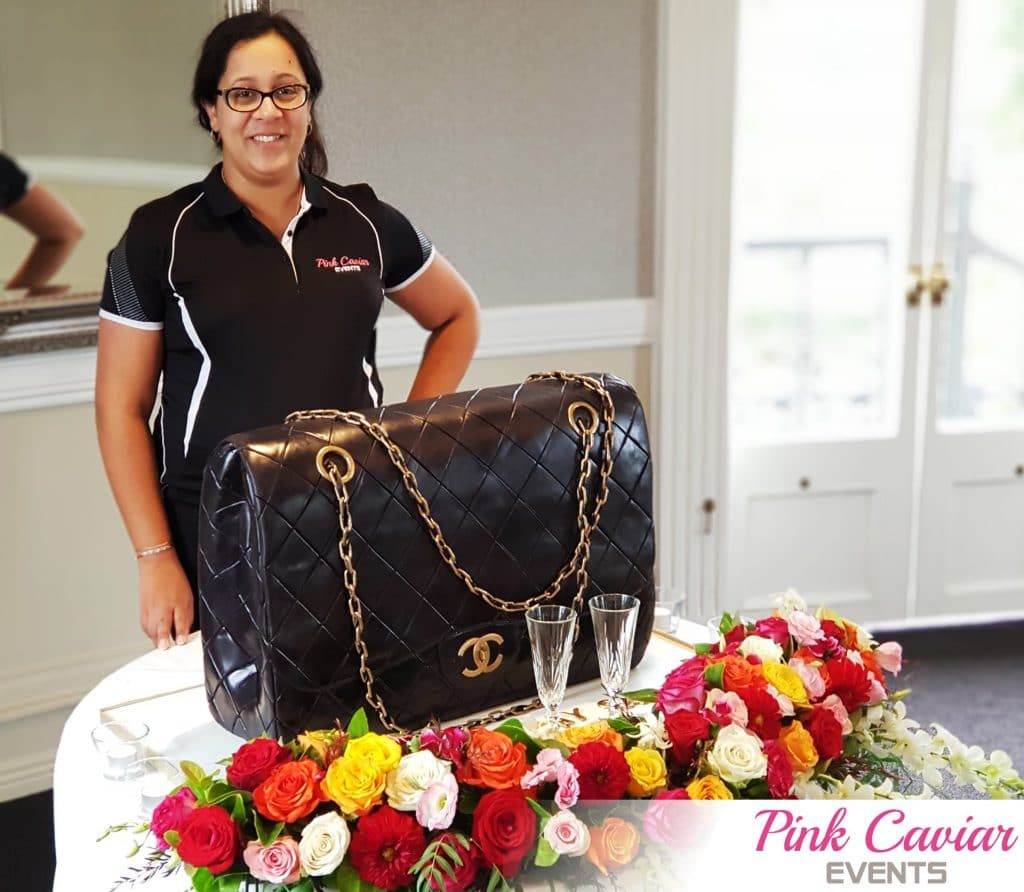 Instagram Balloon Wall
The birthday girl loves Instagram and of course taking photos. We designed a custom Instagram balloon wall for her and everyone there to take lots of photos with. This was keeping in with the colour theme of the rest of the decor. On the other side was her name in large gold metallic balloons just to mix things up 😉 .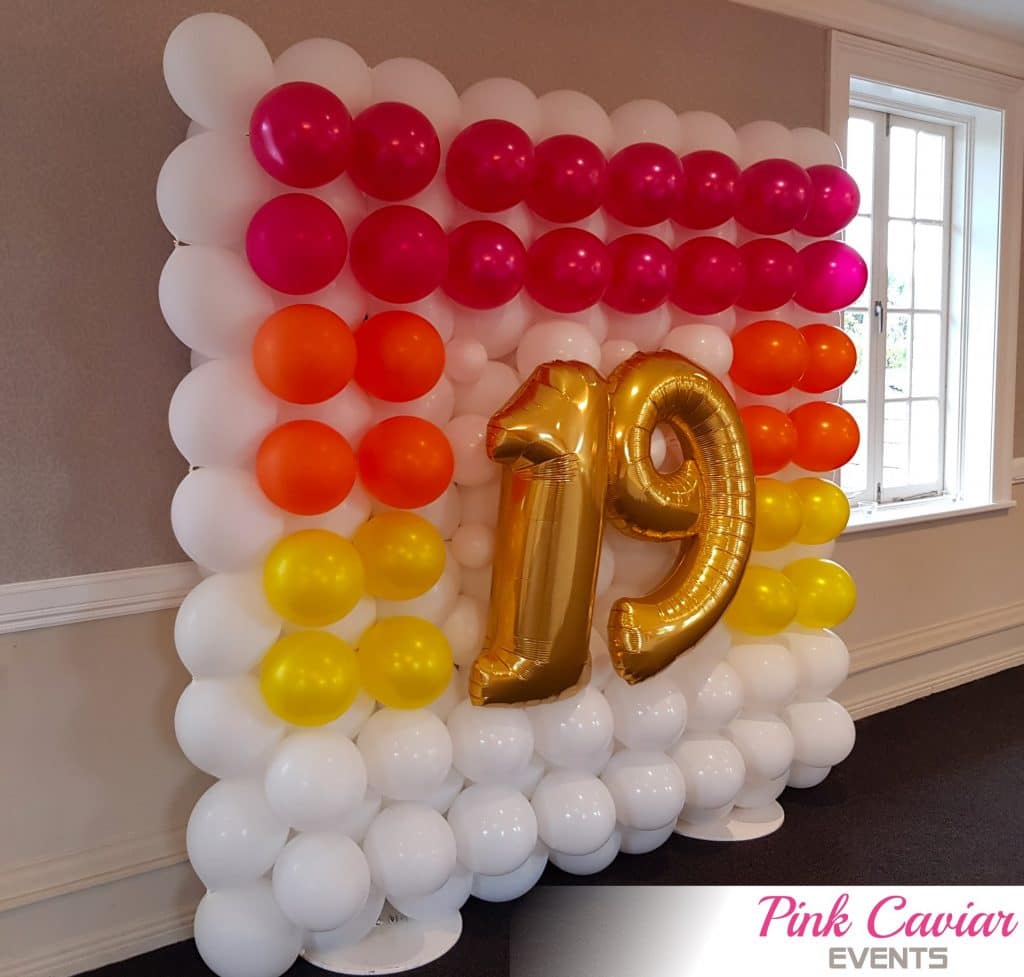 Lounge Chill-out Area
Have you ever had that feeling that when you eat too much you want to be able to get up and stretch and let the food digest. This is why we created this small lounge area. Specifically designed so that during the evening the guests could get up, stretch, have a coffee if they felt like it. Also as there was a baby with them it was a great way to have a area they could also play with the baby.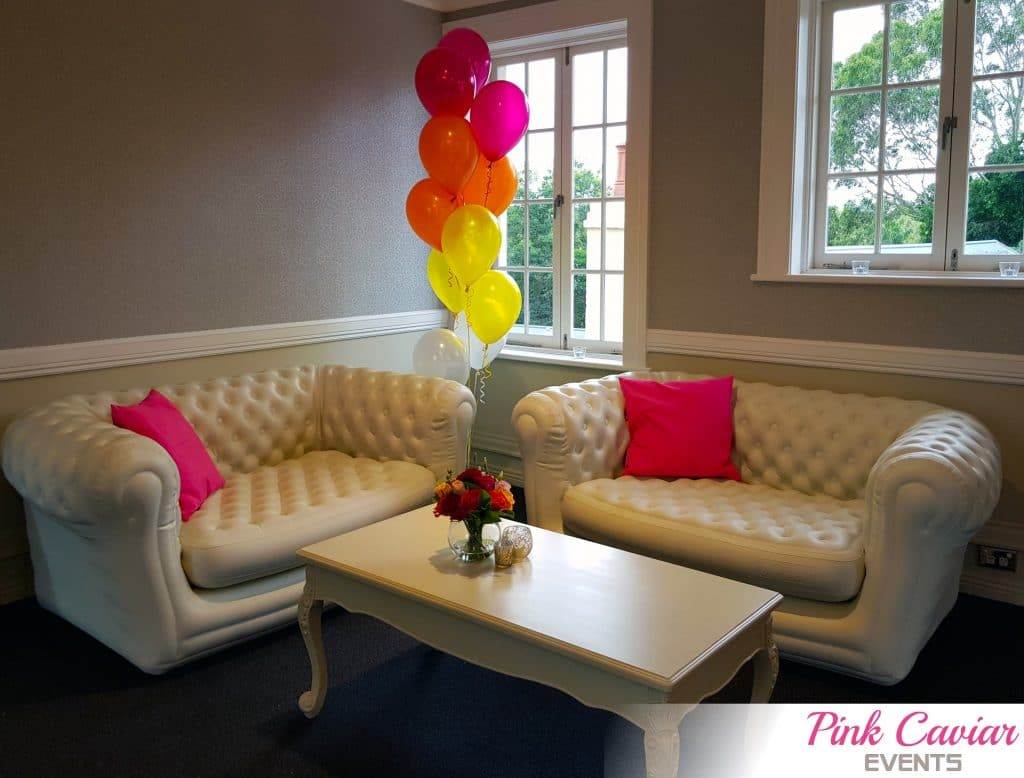 Flowers & Styling
When it came to the flowers and decor in the room, we wanted to appeal to the birthday girl's fun side. The floral décor in the room was inspired by the colours of the sunset. This was brought to life with the ombre flower wall behind the cake. We carried this colour palette through the room with the balloons and flowers. On the dining table was a tall floral arrangement and gold tealight candles. These added to the elegance of the room.
A View of The Gardens
The one key feature we will also mention was that the function room called the Elizabeth Suite and is located on the first floor. Having exclusive access to the balcony and view of the garden and golf course it is a great way to get some fresh air.
Experience The Event In 360 Virtual Reality
Working with the team at Simply 360, we were also able to create a small 360 virtual tour of this event. Experience what it was like at the event as though you were there. Experience this surprise birthday on your computer now or even put on a VR headset and become fully immersed. Check out Simply 360 for all your 360 photo, 360 video and 360 virtual tour needs
Enjoy this 360 Virtual Tour we created of this exclusive event. Double click to make it full screen. Have a VR headset? Put it on to become totally immersed.
Your Event – Your Way
Here at Pink Caviar Events, it's about bringing your vision to life. Whether it is an extravagant private event/surprise birthday or a wedding with 1,000 plus people it is always about the client. We like events like this because it challenges us and pushes us to our limits.
Besides weddings and corporate functions, we also create exclusive events and experiences. If you are interested in holding an event then feel free to contact us. Let us create your dream and turn it into reality.
Did you think the surprise birthday Chanel Handbag cake looked real? Would you even want to cut into it and take a bite :)? Let us know and join the discussion below 🙂