You have a reception venue for your wedding and they offer you a wedding coordinator. You think awesome not only is the reception venue booked but there is also a wedding coordinator included. While this is great they omit one big thing. Reception Venue Wedding Coordinators only focus on your wedding in relation to the venue. Lets take a look at what a professional wedding coordinator does compared to a wedding coordinator provided by the venue.
Difference Between A Professional Wedding Coordinator & Venue Wedding Coordinator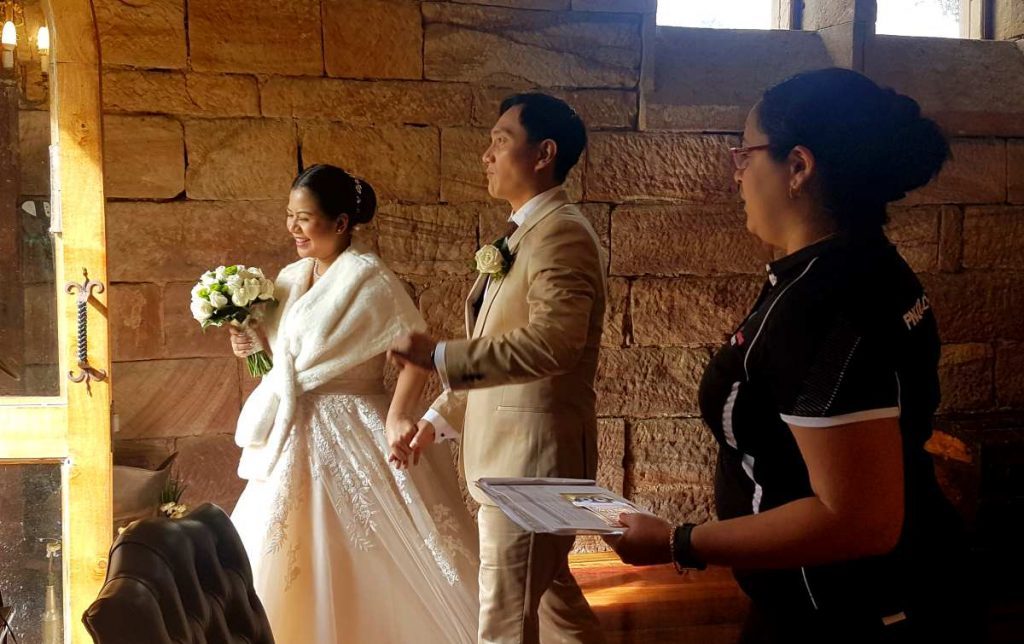 What Professional Wedding Coordinators Do
Making Sure Everyone Is On Time And In Position
This includes contacting all suppliers for your wedding day. Everyone from the band, MC, cake, hair and make up, drivers and so on. We will call and confirm times to make sure everyone/everything is in the right place at the right time. Our coordinators can also help to cue your bridal party down the aisle and assist with holding handbags, phones etc for the bridal party.
Set Up Decorations
We will set things up the way you like such as your wedding decorations, place cards, favours, personal items like photos etc. Our coordinators can also work with your chosen florist to set up centrepieces or non-standard items like signage etc.
Bring You Breakfast
Not many coordinators can say that they will bring you breakfast on your wedding day. Some hotels offer room service that you could use; however, this generally comes at a much higher price. Ours is very price competitive that can be to feed the entire bridal party.
Assist The Photographer
Getting people together, calling for family photos and making sure everyone is ready and able to take pictures. Work with the photographer to ensure that they are unobstructed and in the best positions to take the best photos at all times.
Coordinate Vehicles
Whether its a stretch limo, fancy convertible or a coach full of guests, we can coordinate vehicles and be the sole contact as a key contact.
Transfer Items / Belongings
From the ceremony to the reception and ensure set before other guests arrive. We can help with the getaway suitcase, ceremony candles, certificate etc.
Coordinate With Your MC & Venue Staff (and other duties)
To ensure things are running smoothly and no plates are cleared during speeches. We will also make last-minute changes to accommodate changes in the schedule like last-minute speeches, late food arrival etc. At Pink Caviar Events we can also help with other duties like opening entry doors for the grand entrance, dimming lights for first dances, operating slideshows and cueing the DJ/ MC. We work with your MC to ensure everyone is on the same page in regards to the running order of your wedding.
Organise Pick Ups & Pack Downs
We will coordinate with your suppliers to arrange times for items to be collected post-wedding and even have a pack down service available.
Work With Venue Wedding Coordinators
As venue wedding coordinators have a limited focus, we often work in tandem with them and ensure your event goes off without a hitch. They will focus on their staff, venue space and their schedule. Meanwhile, the professional wedding coordinator will concentrate on timings, all other suppliers, guest requests and all the loose ends that are not under the direct responsibility of the venue. Our primary focus is on the couple. We are there for you.
Professional Wedding Coordinators In Simple Terms
Simply put, a professional wedding coordinator can be summed up in one sentence – "They are there to make sure that your day runs smoothly and according to how you want it". They are there for the couple.
What A Venue Wedding Coordinator Does
Look After Their Venue Space
Their primary focus is to be responsible for their venue to ensure no damages occur. They will also make sure that areas like the bathrooms, the bar and any smoking areas are looked after.
Work With Wait Staff
They will coordinate the wait staff to ensure food is bought out on time according to their schedule.
Place Out Basic Items (maybe)
Some venues will help with placing basic items like 1 x favour and 1 x place card per place setting. Most of them will not place personal items out (like photos, signage, props etc.) unless they have been advised they do this. Placement of items is something you will need to check and get clarification on if your venue provides this service. We recommend that you get this in writing as most weddings are planned out 12 months in advance and people/ terms can change.
Venue Wedding Coordinators In Simple Terms
In simple terms, venue wedding coordinators can be summed up in one sentence "They are there to make sure the event runs according to the schedule of the venue". Their primary focus is to make sure the venue space is looked after, and no damages come to the venue space while they are running your wedding.
Wedding Coordinators In Conclusion
Venue wedding coordinators are great. If your entire wedding is organised through them including styling, photographers, MC among other suppliers and 100% runs through the venue space then they are your best option. The main reason is that they organised everything. If you have decided to use your own suppliers such as photo booth, candy buffet, additional styling or event hire (such as awesome white wedding thrones), then your venue may not provide additional assistance. It would be better to use a professional wedding coordinator. Also, check out our vlog on what to look for in wedding planning suppliers.
Are you using the venue wedding coordinator for your wedding or a dedicated professional wedding planner/coordinator? How did it go? Join the discussion and let us know in the comments below 🙂